Bridgestone received the Thailand Automotive Quality Award 2020 (TAQA)
for 11 consecutive years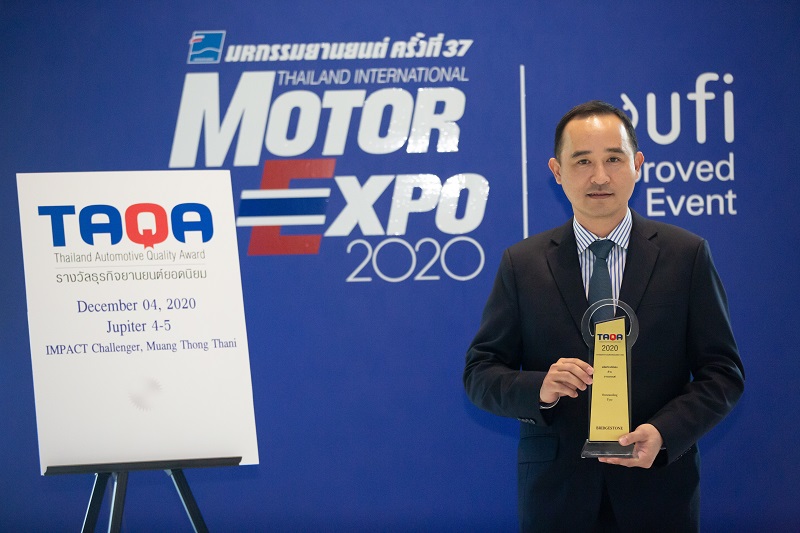 Mr. Samith Saengfai, Division Manager Consumer Product Marketing,
Bridgestone Sales (Thailand) Co., Ltd


[Bangkok] (10 December 2020) – Bridgestone Sales (Thailand) Co., Ltd., Thailand's leading importer, distributor and marketer of Bridgestone tires (BRIDGESTONE), Firestone (FIRESTONE) and Dayton (DAYTON) with the representative Mr. Samith Saengfai, Division Manager Consumer Product Marketing, received the Thailand Automotive Quality Award 2020 (TAQA) for 11 consecutive years from the category "Outstanding Product for Tyre" on December 4, 2020 held at Jupiter 4-5 IMPACT Challenger hall, Bangkok. From the 2,088 consumers survey worldwide in Thailand. This award emphasized Bridgestone new global tagline "Solutions for your Journey" to be a part of Bridgestone ongoing transformation and the evolution of its offering beyond tires and diversified products, and become a leader in Sustainable Mobility and Advanced Solutions.
About Bridgestone:
Headquartered in Tokyo, Bridgestone Corporation is a global leader providing sustainable mobility and advanced solutions. With a business presence in more than 150 countries worldwide, Bridgestone offers a diverse portfolio of original equipment and replacement tires, tire-centric solutions, mobility solutions, and other rubber-associated and diversified products that deliver social value and customer value. The company is guided by its corporate social responsibility commitment, Our Way to Serve, and dedicated to improving the way people around the world move, live, work and play.
About Thai Bridgestone:
In Thailand, Bridgestone has managed to achieve sustainable growth and success through great confidence from end-users, dealers, and automotive manufacturers since its production 51 years ago. Through our history, the company has shown great determination to research, invent, and create excellent products that are suitable for domestic use. Additionally, together with well selected raw materials, state-of-the-art production facilities and machines, and highest standard of quality control, these enable Bridgestone to journey on the same path with the corporate mission-"Serving Society with Superior Quality".