BRIDGESTONE joins forces with BCI
to Employ Blockchain Technology to Enhance Tire Business Capabilities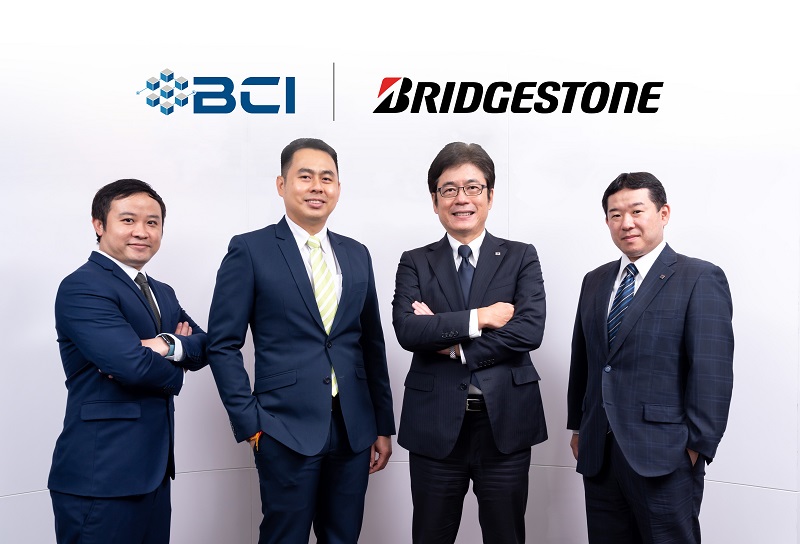 BRIDGESTONE joins forces with BCI
BANGKOK (November 9, 2020) – Recently, Bridgestone Sales (Thailand) Co., Ltd. has teamed with BCI (Thailand) Co., Ltd. in bolstering the capabilities of the tire trading business with the use of "Electronic Letter of Guarantee on Blockchain Technology: Common Node Type (Website)" which is available via web application. This initiative is the first of its kind in Thailand and for the tire industry. Greeting by (2nd from right) Mr. Fumitaka Takaoka, Managing Director Bridgestone Sales (Thailand) Co., Ltd. with (2nd from left) Mr. Siriwat Keatcharoensin, President of BCI (Thailand) Co. Ltd.
The letter of guarantee on blockchain service helps reduce documentation and data management costs, as well as streamlining the work process under international security standards. This service offers an end-to-end verification process for LG via cloud technology, which is more flexible, secure, accountable and status checks around-the-clock. Therefore, relevant processes are significantly shortened, thus enhancing service efficiency on the digital platform.
Mr. Taisuke Meguro, the Corporate Group Director of Bridgestone Sales, said that "the company has employed blockchain technology to enhance its capabilities in tire trading process management. Bridgestone Sales is Thailand's first company to apply the "Electronic Letter of Guarantee on Blockchain Technology: Common Node Type (Website)" with its business and customers. The company which accepts a letter of guarantee (LG) can log in to the system to view data and check the LG status of its customers from different banks under a shared digital platform. This helps save documentation, which is convenient and has world-class security standards, can help save document processing time and ensure business continuity regardless of events such as the COVID-19 pandemic. Its reliability also allows users to check eLG status more efficiently at any time of day. This initiative is under the cooperation of BCI (Thailand) Co., Ltd. – the first eLG service provider in Thailand."
Mr. Siriwat Keatcharoensin, President of BCI (Thailand) Co. Ltd., said that "BCI is the first service provider of eLG on blockchain in Thailand. Since its debut, eLG has garnered interest and widespread use among Thai and international banks, plus state enterprises and leading companies. BCI is committed to improving eLG so that it is more practical and affordable to all businesses. To cope with disruptive technology, the company is planning to use blockchain technology to develop other services and to support other businesses in the drive to reduce pain points for users in all sectors and to steer the country towards the fully digital economy of the future."
About Bridgestone:
Bridgestone Corporation, headquartered in Tokyo, is the world's largest tire and rubber company. In addition to tires for use in a wide variety of applications, it also manufactures a broad range of diversified products, which include industrial rubber and chemical products and supporting goods. Its products are sold in over 150 nations and territories around the world.
About Thai Bridgestone:
In Thailand, Bridgestone has managed to achieve sustainable growth and success through great confidence from end-users, dealers, and automotive manufacturers since its production 51 years ago. Through our history, the company has shown great determination to research, invent, and create excellent products that are suitable for domestic use. Additionally, together with well selected raw materials, state-of-the-art production facilities and machines, and highest standard of quality control, these enable Bridgestone to journey on the same path with the corporate mission-"Serving Society with Superior Quality".