Bridgestone Emphasizes its 2020 Achievements,
a Global Leader Providing Sustainable Mobility and Advanced Solutions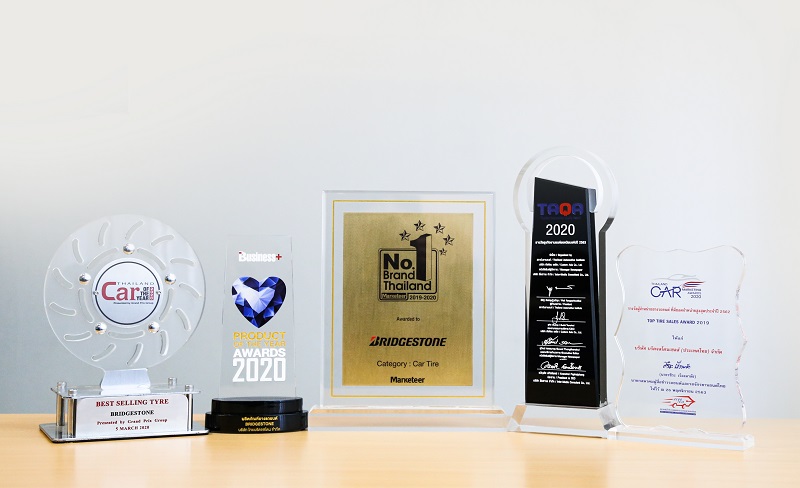 [Bangkok] (28 January 2021) Bridgestone Sales (Thailand) Co., Ltd. is grateful for all 2020 award achievements from private and public sectors in Thailand's automotive industry. These 5 awards demonstrate its best-in-class products, services and solutions that continue to meet and exceed the needs of our customers and society.
Bridgestone achievements in 2020
1. The Best Selling Tyre Award

Bridgestone has been named for the 22nd year of "the Best Selling Tyre" at Car of the Year 2020 awards by the Grand Prix International Public Company Limited. This award recognition demonstrates Bridgestone's commitment to continue providing wide range of quality tire with innovative technologies that meet customer expectations and gives them safety at all journeys.
2. Product of The Year Award

Bridgestone was named by groups of market's specialists and public-voted from customers as the best product of the year in tire category at the "BUSINESS+ Product of the Year awards 2020" which organized by Business+ magazine, ARIP PLC and College of Management, Mahidol University.
3. No.1 Brand Thailand 2019 – 2020 Award

Bridgestone has once again been recognized for the most popular brands in the consumers' heart in terms of quality, marketing and CSR activities in the categories of car tire on the No. 1 Brand Thailand 2019-2020 award conducted by Marketeer Magazine. (9 consecutive years)
4. Outstanding Brand Image for Tyre Product Award

Based on results of survey and research car users nationwide for their satisfaction to products & services and images of automotive manufacturers along with automotive related products, Bridgestone has earned TAQA award in the category of "Outstanding Product for Tyre" in Thailand Automotive Quality Award 2020 for the 11th consecutive years, by Custom Asia Co., Ltd., Thailand Automotive Institute, Inter-Media Consultant Co., Ltd. and Manager Newspaper.
5. Top Tire Sales Award

Bridgestone was given the "Top Tire Sales" awards demonstrated our outstanding marketing campaigns and activities in Thailand at the Thailand Car of the Year 2020 by from Thai Automotive Journalists Association (TAJA).
"Bridgestone is honored and proud of the effort and dedication we have consistently. Thank you for all teammates, business partners, press, local organizations and especially our valued customer for the great support and trust in Bridgestone. We will continue co-creating value through the work with these partners to continue our unwavering commitment to strive to improve performance, quality and innovation to providing sustainable mobility and advanced solutions" said by Mr. Samith Saengfai, Division Manager Consumer Product Marketing, Bridgestone Sales (Thailand) Co., Ltd.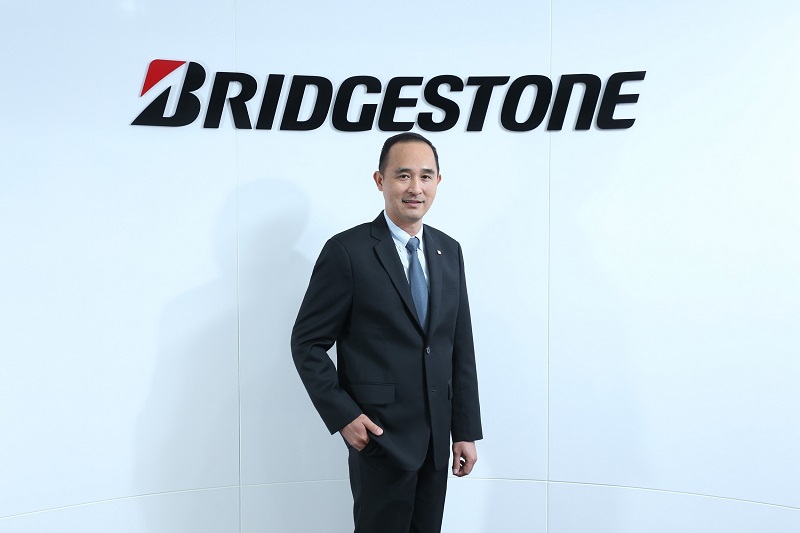 Mr. Samith Saengfai, Division Manager Consumer Product Marketing, Bridgestone Sales (Thailand) Co., Ltd.
About Bridgestone Corporation:
Headquartered in Tokyo, Bridgestone Corporation is a global leader providing sustainable mobility and advanced solutions. With a business presence in more than 150 countries worldwide, Bridgestone offers a diverse portfolio of original equipment and replacement tires, tire-centric solutions, mobility solutions, and other rubber-associated and diversified products that deliver social and customer value. Guided by its global corporate social responsibility commitment, Our Way to Serve, Bridgestone is dedicated to shaping a sustainable future of mobility and improving the way people around the world move, live, work and play.
For Thailand:
In Thailand, Bridgestone has experienced stable growth, having received trust from its users, dealers, and automobile producers ever since its commencement of production 52 years ago. Throughout the time that has passed, Bridgestone aspires to research, invent, and innovate products at excellent standards suitable for the domestic environment. Furthermore, a selection of quality raw materials, machinery and technologies of the most cutting-edge grade are implemented, in addition to the highest degree of quality control. This is done in order to proceed according to the company's mission to "Serve society with unrivalled quality."