Bridgestone announces new MD for Thai Bridgestone
vowing to strengthen its leadership in sustainable mobility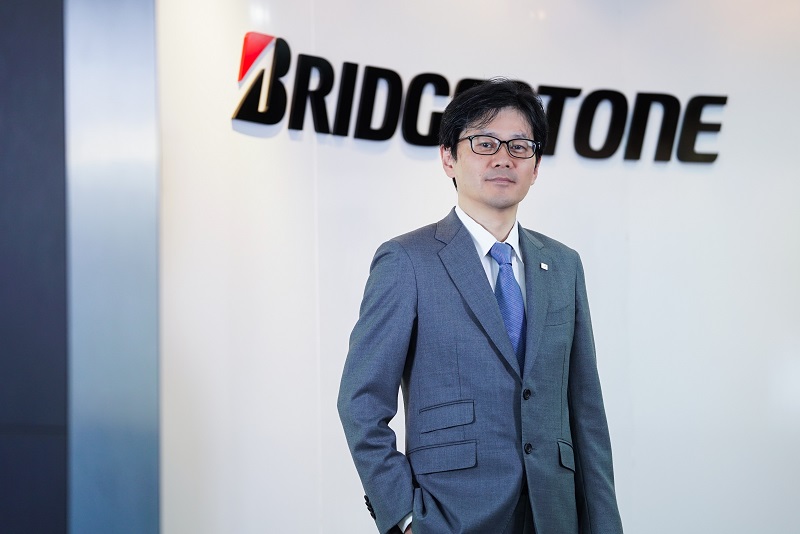 Mr. Keiji Chuma, Managing Director of Thai Bridgestone Co., Ltd
[Bangkok] (February 4, 2021) - Thai Bridgestone Co., Ltd., officially announces the appointment of Mr. Keiji Chuma as the new Managing Director. Taking the position since January 29th, the newly appointed Managing Director has vowed to lead his Bridgestone teams in moving forward with their fullest potential to become the leading company to provide sustainable mobility and advanced solutions under Bridgestone's new tagline "Solutions for your journey".
As the Managing Director, Mr. Keiji Chuma will focus on transformation of TBSC to evolve itself with customer centric view point to be a Dan-Totsu leader in Thailand. This approach is executed under the new tagline "Solutions for your journey" which has been applied all over the world to truly emphasize Bridgestone's global leadership. And the company in Thailand will continue to fully introduce this slogan in the first quarter of this year.
Mr. Keiji Chuma, stated that "I am truly honored to be a part of the Bridgestone team in Thailand as the Managing Director of Thai Bridgestone Company Limited. From now on, I will take over Mr. Takaoka's responsibility who has driven our operations in Thailand greatly despite the pandemic. I would like to take this opportunity to wish Mr. Takaoka success in taking up a new position at Bridgestone Tire Solution Japan. On my part, I have my true intention to continue to develop product and service to deliver sustainable mobility and advanced solutions, in line with Bridgestone's important mission aiming to "Serving Society with Superior Quality" by adding value to Thai society, customers and our business partners. I look forward to receive your continued support as Bridgestone aim to continue leading the tire market in Thailand."

Mr. Keiji Chuma is considered one of Bridgestone's key veterans. He started working at Bridgestone Corporation, Japan since 1992 until now. The last position he was responsible for was Director of Aircraft Tire Global Business at Bridgestone Corporation, Japan. Prior to taking this position in Thailand, he has with him extensive experience in tire technical service, commercial tire sales and global marketing strategy in Japan, Saudi Arabia, Belgium and China.
About Thai Bridgestone Co., Ltd.
Headquartered in Tokyo, Bridgestone Corporation is a global leader providing sustainable mobility and advanced solutions. In Thailand, Thai Bridgestone Co., Ltd. (TBSC) is a leading manufacturer in the Thai automotive industry. Since its commencement in production in 1969, TBSC has been a brand trusted by its customers, dealers and business partners. It offers an extensive range of quality tires including Bridgestone, Firestone and Dayton, carefully developed to suit local conditions and to deliver social value and customer value. Guided by its global corporate social responsibility commitment, Our Way to Serve, Bridgestone is dedicated to shaping a sustainable future of mobility and improving the way people move, live, work and play.