Bridgestone Continues to Enhance Digital Marketing, Launching
Line Official Account for More Convenient Customer Service
[Bangkok] (8 April 2021) – Bridgestone Sales (Thailand) Co., Ltd., has continued to enhance digital marketing and Bridgestone brand by introducing a new way to connect with customers nationwide closely, especially customers who like to communicate on social media. The latest was the announcement of launching a convenient communication channel, Line Official Account, to convey our news of products, price, special promotions, as well as activities. You can become friends with Bridgestone by adding friends through Line official Account @BridgestoneTH or scan QR Code as below.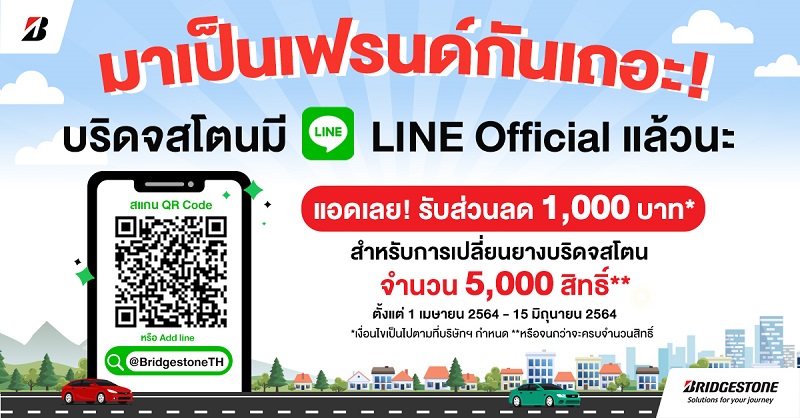 On this special occasion, Bridgestone provides special discount coupon 1,000 Baht to change Bridgestone's tires exclusively for 5,000 LINE Official friends. For those who are interested can register to receive the discount coupon from 1 April – 15 June 2021. The discount can be used from 1 April - 30 June 2021 (*conditions as specified by the company, **or while discount coupons last).
About Bridgestone in Thailand
Headquartered in Tokyo, Bridgestone Corporation is a global leader providing sustainable mobility and advanced solutions. In Thailand, Thai Bridgestone Co., Ltd. (TBSC) is a leading manufacturer in the Thai automotive industry, while Bridgestone Sales (Thailand) Co., Ltd. (BSTL) is the exclusive importer & distributor, and supervises the marketing strategy for Bridgestone, Firestone and Dayton branded tires in Thailand. Bridgestone is a brand trusted by its customers, dealers and business partners. It offers an extensive range of quality tires, carefully developed to suit local conditions and to deliver social value and customer value. Guided by its global corporate social responsibility commitment, Our Way to Serve, Bridgestone is dedicated to shaping a sustainable future of mobility and improving the way people move, live, work and play.