Bridgestone Congratulates to 4 Thai Para Athletes and Presents 100,000 Baht
Raised from the "Cheer to Power Up" Campaign to "Don't Drive Drunk Foundation"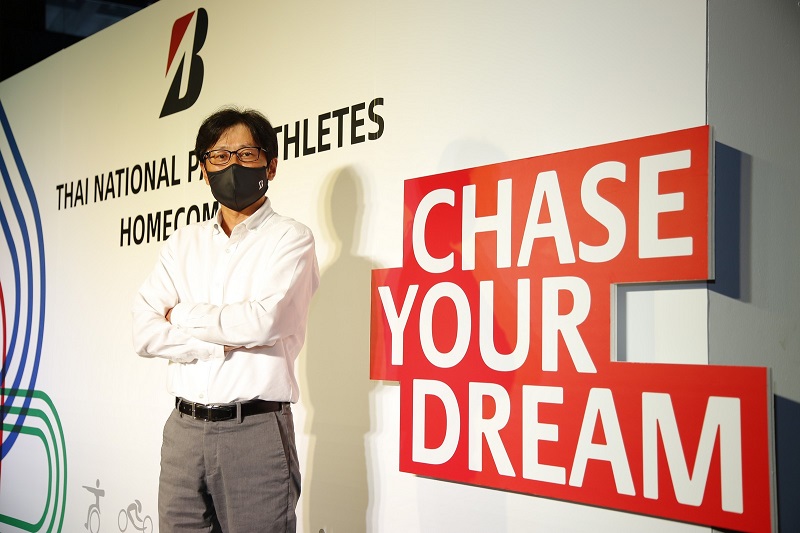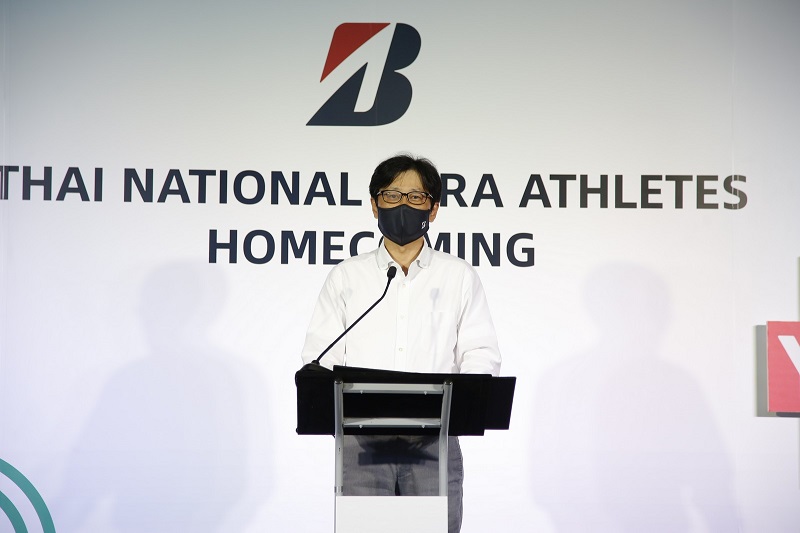 [Bangkok] (24 September 2021) – Bridgestone Thailand welcomes 4 Thai Para Athletes, who are also the members of the Team Bridgestone Thailand. On this occasion, Bridgestone presents reward support to James-Worawut Saengampa, a Thai boccia athlete who achieved his mission in the "Tokyo 2020 Paralympic Games" by winning the gold medal in the team category. Bridgestone Thailand also hands over 100,000 baht from the "Cheer to Power Up" campaign to the "Don't Drive Drunk Foundation" with an aim to pass on this inspiration and transform it into a great empower for people with disabilities in Thai society.
Mr. Keiji Chuma, Managing Director of Thai Bridgestone Co., Ltd., stated that, "Throughout the Tokyo 2020 Olympic and Paralympic Games, Bridgestone has dedicated as the Worldwide Olympic Partner and Tokyo 2020 Paralympic Games Gold Partner who fully supported this world-class sport event in all aspects. We strive to develop product and offer solutions to meet mobility needs and various buildings to be effective. We arranged volunteer program that encourage hundreds of employees to collaborate with the organizers. For Bridgestone in Thailand, we have been very successful in pushing the Thai Para athletes under the Team Bridgestone Thailand. The one that is worth mentioned about is James-Worawut Saengampa, a Thai Boccia athlete, who won the gold medal from the BC1/BC2 mixed team competition. The Thai national team successfully held the championship for the 3rd time in a row. On this success, Bridgestone Thailand presents to him with a 300,000 baht sponsorship prize. For Beam-Chaiwat Rattana, a Thai wheelchair racing athlete, Jane-Janejira Panyatib, a Thai para athlete in athletics – women's long jump and Sorn-Sergeant Anusorn Chaichamnan, a Thai shooting para athlete, and they all displayed outstanding performance and collected competitive statistics and satisfactory. Note that this was the first time they joined the world-class sport event. Besides supporting the 4 Thai Para Athletes as employees of Thai Bridgestone Co., Ltd., we also created a special campaign "Cheer to Power Up" by inviting Thai sports fans to send messages of encouragement to the 4 athletes of the Team Bridgestone Thailand as a moral support for them to further chase their dreams along with giving back to society through the Don't Drive Drunk Foundation. For every 1 message, Bridgestone will contribute 10 baht to the foundation. The campaign has been well received by sports fans through www.bridgestonechaseyourdream.com. Bridgestone will continue to contribute to society to be more sustainable with our mission, "Serving society with superior quality" in every potential opportunity."
"We as Team Bridgestone Thailand athletes are delighted, and it is an honor that Bridgestone Thailand has always supported us in every way. To join the 2020 Paralympic Games is a significant life experience that will allow us to confidently step on the other challenging tests of life. All our achievements today I would like to express my gratitude for all the encouragement that Thai sports fans have sent us messages of encouragement throughout the competition and thank you Bridgestone Thailand again for the opportunity and driving the pursuit of success of us this time." James-Worawut Saengampa, a Team Bridgestone Thailand athlete, said.
On this occasion, Bridgestone Thailand has donated 100,000 baht from a special campaign "Cheer to Power Up" to the Don't Drive Drunk Foundation. This is with our intention to join to create a powerful society and empower people with disabilities to overcome obstacles with aims to "Chase Your Dream" or continue to pursue their dreams in the future. Ms. Nundhaka Sarttrapai, Human Resource Director of Thai Bridgestone Co., Ltd., representative from Bridgestone hands over 100,000 Baht funds to Dr. Tairjing Siriphanich, Secretary-General of the Don't Drive Drunk Foundation. Join us and follow Bridgestone's activities in the next opportunity via www.bridgestone.co.th or www.facebook.com/BridgestoneTH.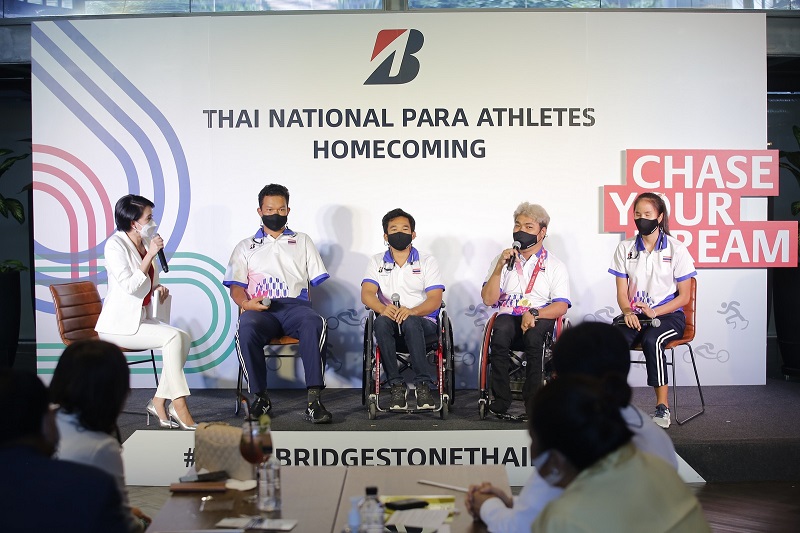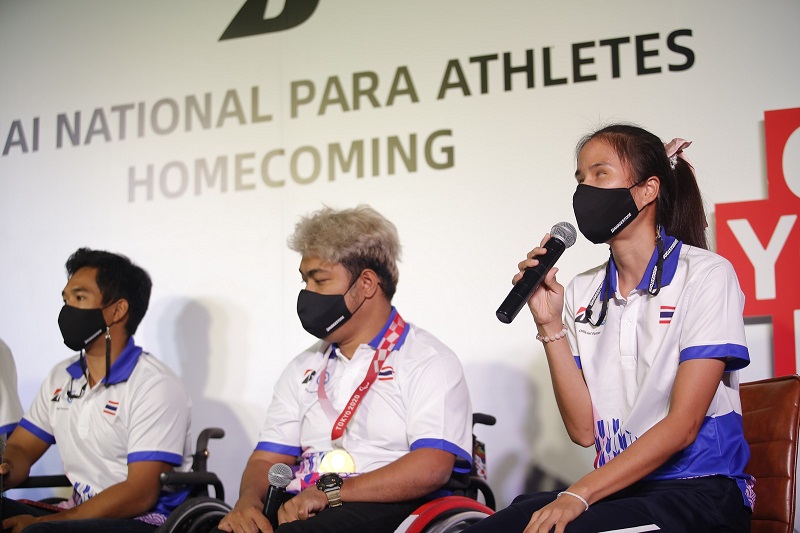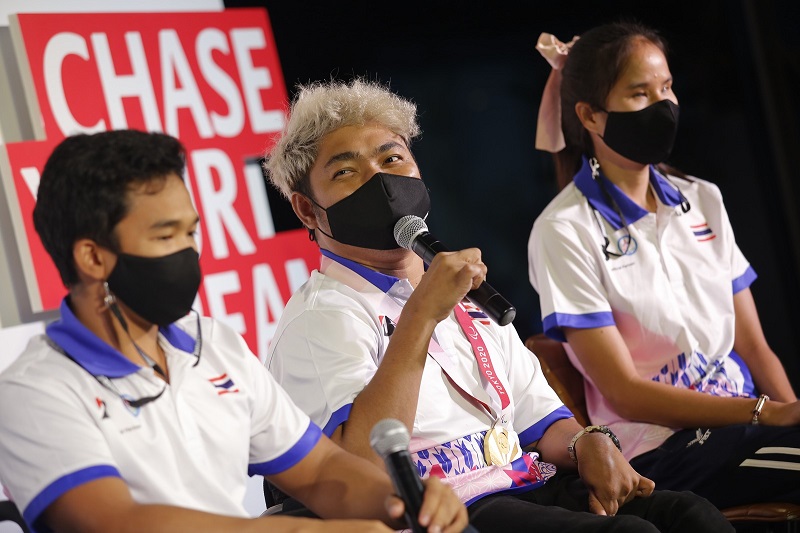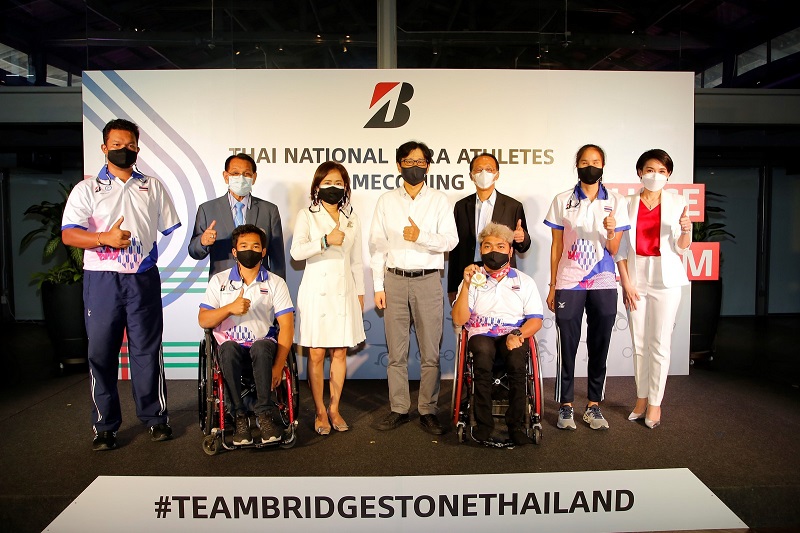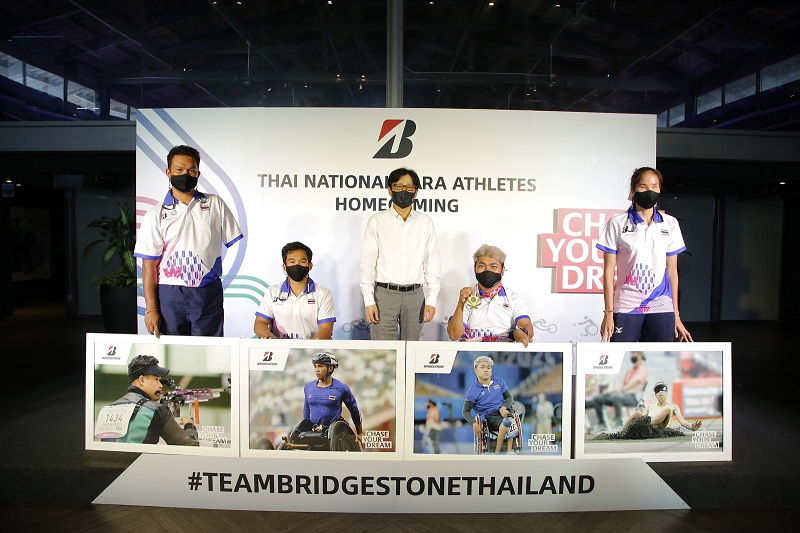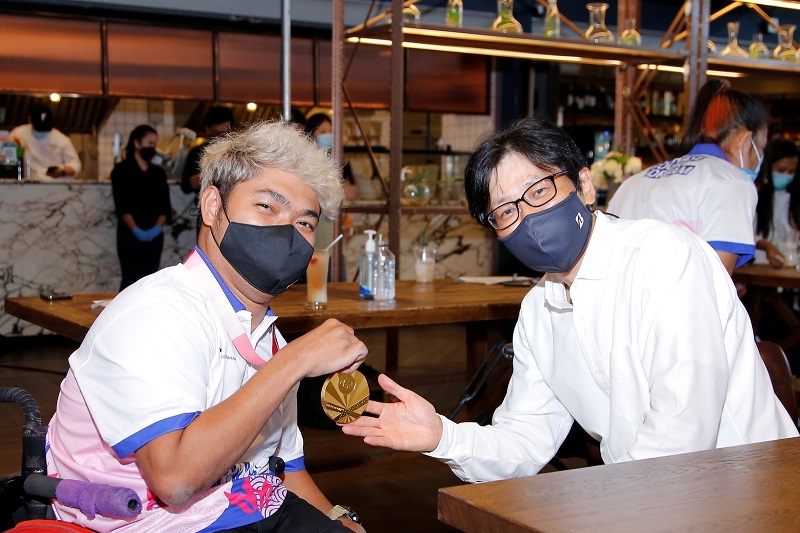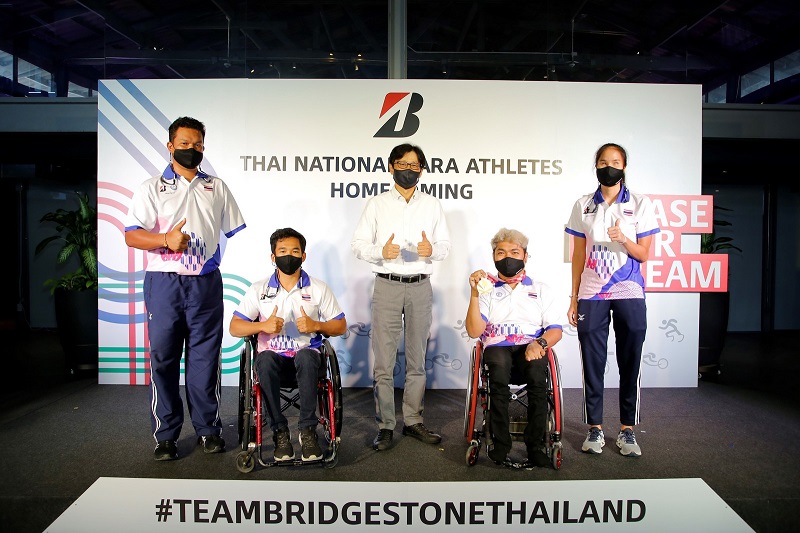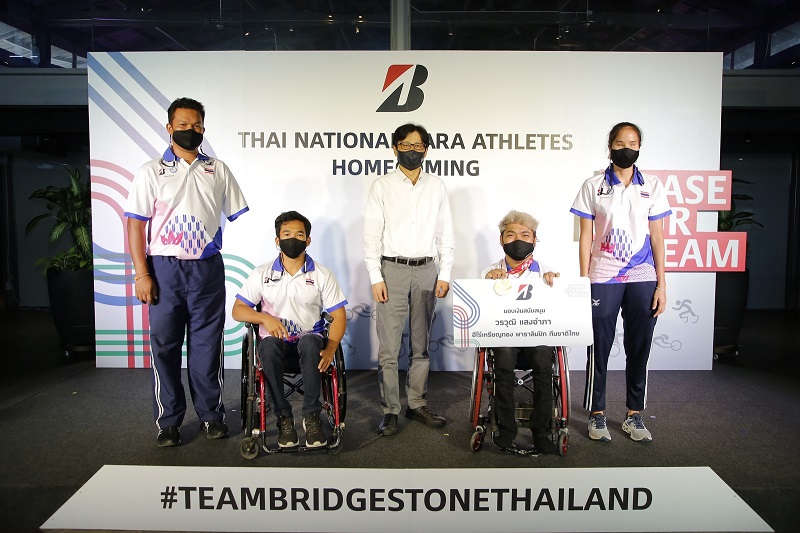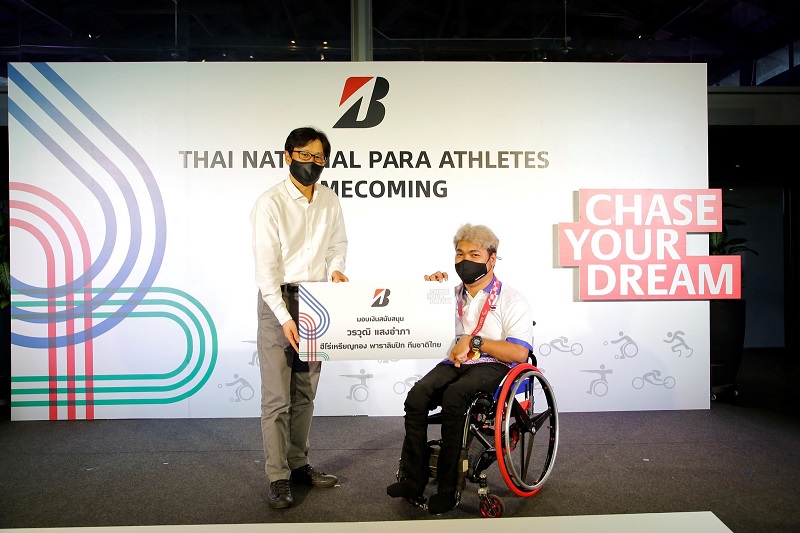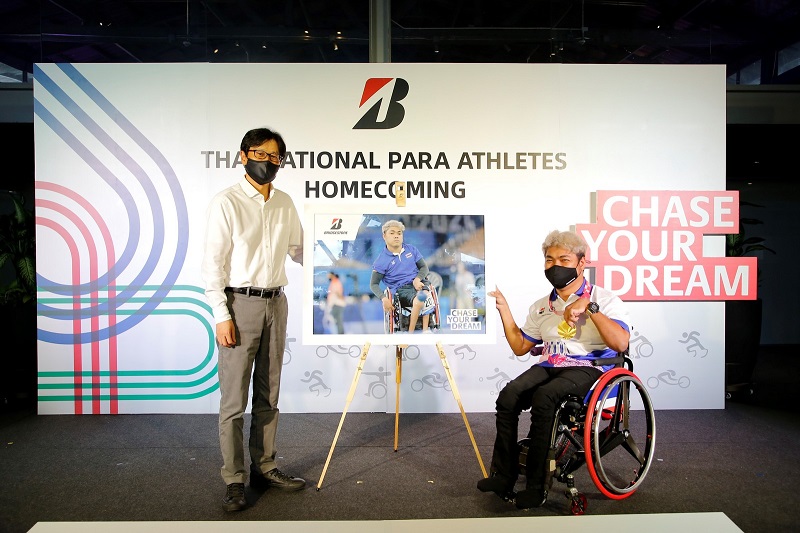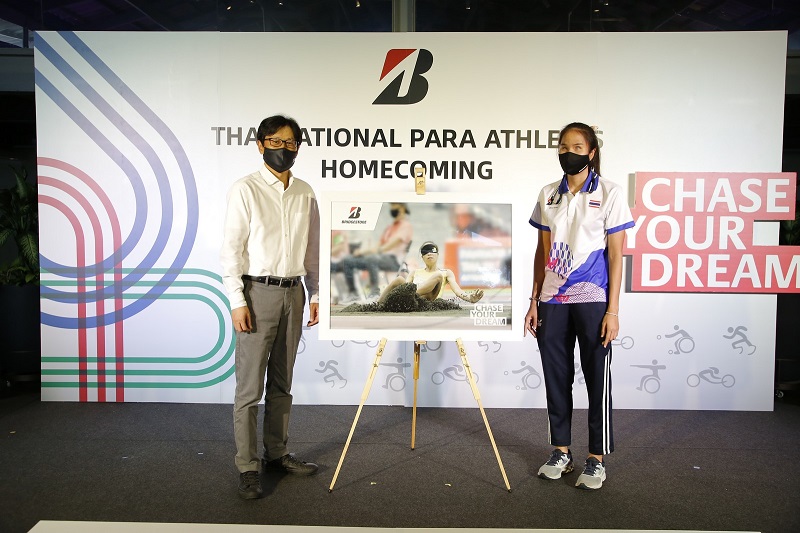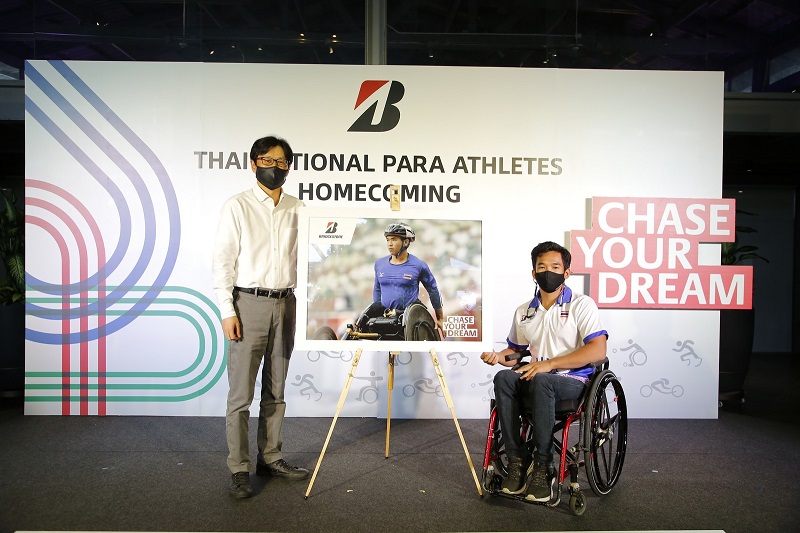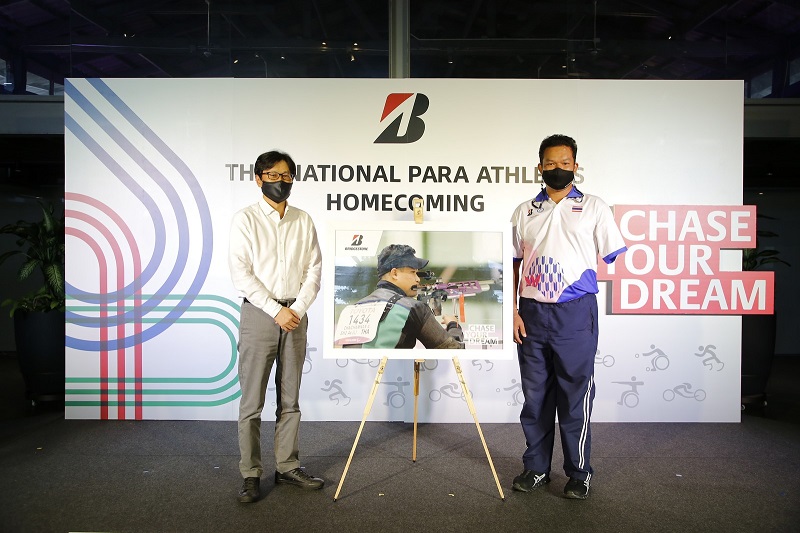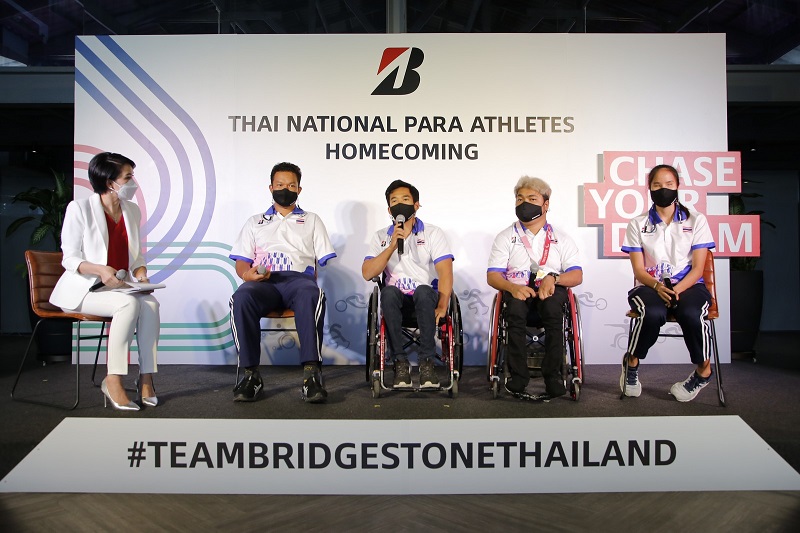 About Bridgestone in Thailand
Headquartered in Tokyo, Bridgestone Corporation is a global leader providing sustainable mobility and advanced solutions. In Thailand, Thai Bridgestone Co., Ltd. (TBSC) is a leading manufacturer in the Thai automotive industry, while Bridgestone Sales (Thailand) Co., Ltd. (BSTL) is the exclusive importer & distributor, and supervises the marketing strategy for Bridgestone, Firestone and Dayton branded tires in Thailand. Bridgestone is a brand trusted by its customers, dealers and business partners. It offers an extensive range of quality tires, carefully developed to suit local conditions and to deliver social value and customer value. Guided by its global corporate social responsibility commitment, Our Way to Serve, Bridgestone is dedicated to shaping a sustainable future of mobility and improving the way people move, live, work and play.