Bridgestone Unveils its 2021 Business Strategy to Become a Sustainable
Solutions Company and Introduces New Tagline in Thailand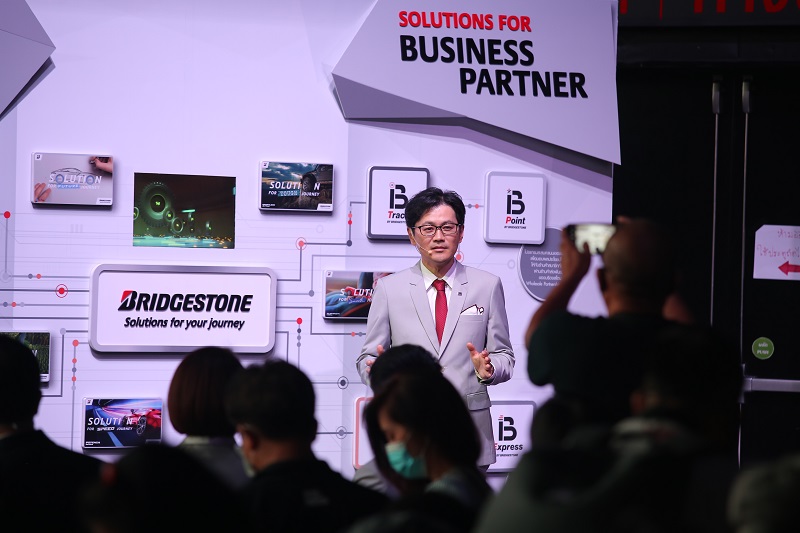 Mr. Keiji Chuma, Managing Director of Thai Bridgestone Co., Ltd.
[Bangkok] (March 17, 2021] – Thai Bridgestone Co., Ltd., holds a press conference to announce its 2021 business strategy, aims at emphasizing its leadership in Thailand's tire market and committing to provide social value and customer value. Bridgestone is ongoing to offer mobility solutions for every journey safely, confidently and efficiently throughout customer's journey. Meanwhile, Bridgestone also announces the new tagline in Thailand, "Solutions for your journey", at the 3rd Theatre, The Lido Connect, Siam Square, Bangkok.
Considering 2021 as the beginning of Bridgestone 3.0, we continue to create social value and customer value as a sustainable solutions company towards 2050. We put forth our solutions with innovation combined with the strengths of our tire business, tire production, services and solutions development to secure competitive advantage and business growth stably and sustainably.
In Thailand, Bridgestone recognizes customer-centric is the key, by listening and understanding customer's insights and behaviors. We will provide solutions through innovation designed to solve problems and meet customer's satisfaction. With the "Volume to Value" strategy, we will provide value-added products, service and solutions to offer safety and confidence to our customers and efficiency in business operations for our business partners.
Mr. Keiji Chuma, Managing Director of Thai Bridgestone Co., Ltd. stated, "Solution means solving problems that is why we listen to problems from our valued customers, in order to further develop our products and services by integrating the strengths of our tire business with technology. In such times and countless challenges, we are in the era of uncertainty. The current Covid-19 situation has reminded us that unprecedented crisis can happen anytime. This can lead social system and business environment to be unstable and shifted significantly. However, we still see that this industry is profitable while delivering value through our advanced products and solutions. We will go together, go further with the society and our customers.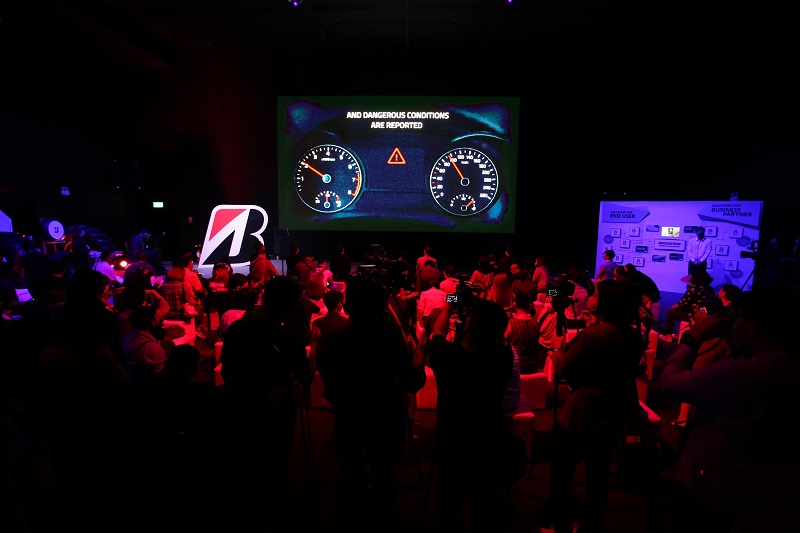 "Solutions for your journey" Press Conference
In addition, Bridgestone officially announces the new tagline "Solutions for your journey"
in Thailand, aims at communicating our commitment under the concept of "Bridgestone is ready to be the solutions for different kinds of destination" locally. Bridgestone has always been the road companion for every journey. Our mission is to use the combination of technology, creativity, and passion to safely drive people to their destinations as a sustainable solutions company today, tomorrow and toward the future.
In 2021, Bridgestone offers the solutions in Thailand's tire market as follows:


Solutions for our passenger tire customers enable every journey with safety and confidence. Our B-iTech, a solution that delivers confidence to our valued customer and their family as they embark on their journey without worry, thanks to the TPMS or Tire Pressure Monitoring System, connected via a Bluetooth system with B-iTech application which was developed exclusively by Bridgestone, monitor tire pressure for the optimal rate to give highest safety for everyone in your family in real-time at all times.
And next is B-24hrs, a solution that provides safety to the customer with 24-hour Bridgestone Contact Center and 365 days service, giving advice and recommendation for general questions and answering queries on products and services, basic information on automobiles in case of engine breakdown or urgent assistance for road emergencies, by the technicians and specialists. Double protection is delivered with our B-Care program, the tire protection from accidents, tire punctures (under terms and conditions of the company) with the warranty program provides 4 new tires. B-Care is the solution that promises to deliver the optimal driving experience and highest safety to our valued customer.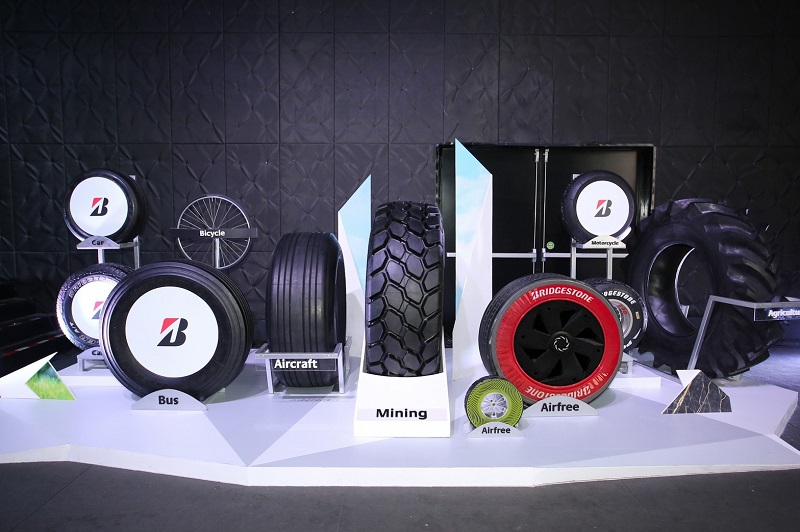 Bridgestone's Tires
Solutions for our commercial tire customers highlight safety and efficiency in business operations with one-stop. Featured in the solutions are, the "Bridgestone Ecopia" tire which delivers fuel savings efficiency of 6%, and "Bridgestone Bandag tire retread products", which involves bringing in old used tires for retreading with high industry standard and product warranty from Bridgestone for tire reuse, and also providing customer with greater savings and preserving the environment. In addition, we also introduce B-Track, a solution in tire maintenance for a prolonged life cycle and utmost safety. The program features a tread pattern and groove check system, along with tire pressure monitoring system connected to Bluetooth. It collects product data for tire analysis and tire management at the optimal and appropriate time, developed by Thais for Thai customers in Thailand's tire market. B-24hr, a solution to strengthen business operations and flows without hiccup. The 24-hour assistance program will help customers in emergency situation in case of tire accident; the customer will receive tire and assistance while paying at the same price and service at Bridgestone service center nationwide with leaner operations, transparency, convenience and efficiency. Furthermore, for customers who desire safe and quality tires but facing financial problems, Bridgestone offers B-Finance, a solution which collaborates with the leading financial institutions offering affordable financial credit packages, both short and long-term loans to customers, in order to purchase Bridgestone products more easily with comfort and less the worry.
"Bridgestone believes strongly that a simple profit seeking business will never thrive, but a business that contributes to its society and country will be forever. We continue to pursue our Bridgestone's mission, "Serving Society with Quality Superior Quality" by developing new safety standard benchmarks and delivering a better quality of life for society and for customers. All of the aforementioned represents Bridgestone's determination to be a Dan-Totsu leader in every aspect of the business in Thailand's tire market", said Mr. Keiji Chuma.
About Thai Bridgestone Co., Ltd.
Headquartered in Tokyo, Bridgestone Corporation is a global leader providing sustainable mobility and advanced solutions. In Thailand, Thai Bridgestone Co., Ltd. (TBSC) is a leading manufacturer in the Thai automotive industry. Since its commencement in production in 1969, TBSC has been a brand trusted by its customers, dealers and business partners. It offers an extensive range of quality tires including Bridgestone, Firestone and Dayton, carefully developed to suit local conditions and to deliver social value and customer value. Guided by its global corporate social responsibility commitment, Our Way to Serve, Bridgestone is dedicated to shaping a sustainable future of mobility and improving the way people move, live, work and play.