Bridgestone Invites the Legendary Racing Car Enthusiasts to Join the "Bridgestone Group A Track Day" Event
Bridgestone Invites the Legendary Racing Car Enthusiasts to Join the "Bridgestone Group A Track Day" Event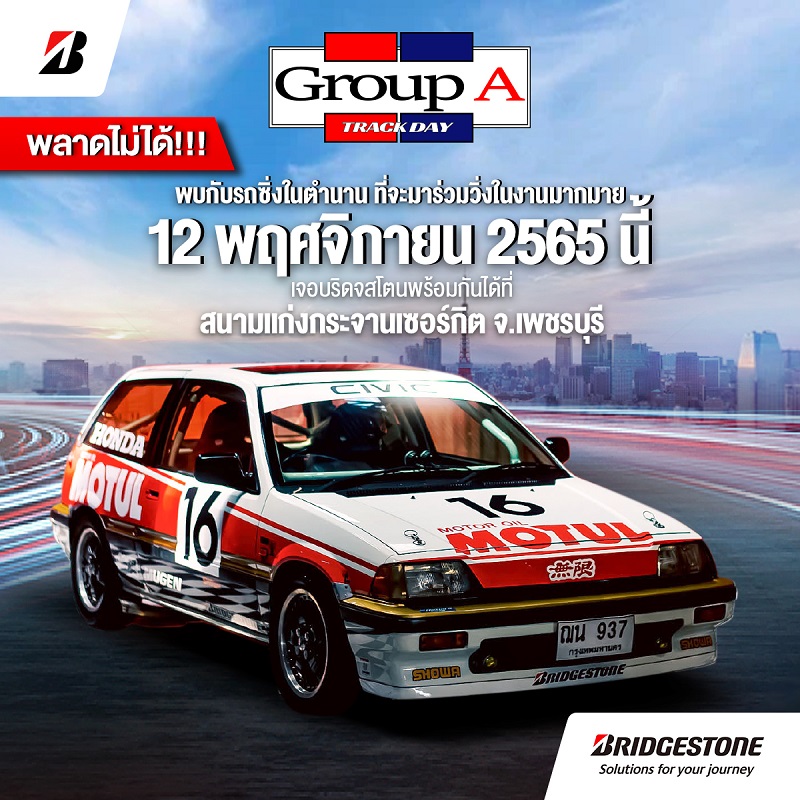 [Bangkok] (October 27, 2022) – Bridgestone joins forces with the Grand Prix Group to awaken the spirit of racing car drivers by inviting the legendary car enthusiasts from the 70s, 80s, and 90s to show off their racing skills on the racing track at the "Bridgestone Group A Track Day" event. It is where a group of people with the same mind meet and socialize while highlighting the return of the "Bridgestone" brand to the motorsport industry in Thailand. Come and experience the excitement at Kaeng Krachan Circuit, Phetchaburi Province, on Saturday, November 12, 2022.
The "Bridgestone Group A Track Day" is a gathering of car enthusiasts, the owners of  legendary racing cars from 1970 – 1999 (the 70s, 80s, and 90s).
It is an ideal event to demonstrate the grandeur of legendary racing cars. Car owners interested in joining the fun with the Track Day event, awakening the spirit of a racing car, or exploring new experiences on your car's performance on the racing track can apply at https://bit.ly/3xYfpI4. The application starts from now on.
In addition, there will also be a demonstration of a collection of cool cars, rarely seen anywhere. Participants will meet and exchange experiences and opinions with a group of people with the same mind from various car clubs. Come and enjoy shopping for auto spare parts, accessories, and collectibles. You will enjoy a variety of food trucks as well as participate in various activities held by sponsors with a chance to win souvenirs.
The event will be held on Saturday, November 12, 2022, at Kaeng Krachan Circuit, Phetchaburi Province. For those interested, participation in the event is free of charge. You can follow the event details on Facebook Fanpage: GPI Motorsport and Group A Club.
Joining as the title sponsor of the "Bridgestone Group A Track Day" event marks the return of Bridgestone Motorsport activity to the Thai motorsport industry.
It reinforces Bridgestone's leadership in tire innovation to deliver a confident experience in all forms of mobility, even on the racing track. The sponsorship aligns with "Emotion", which is committed to inspiring excitement and spreading joy to the world of mobility through challenging activities and thrilling driving experiences. It is based on the "Bridgestone E8 Commitment" under Bridgestone's vision of becoming a sustainable solutions company that provides social and customer value.
About Bridgestone in Thailand

Headquartered in Tokyo, Bridgestone Corporation is a global leader providing sustainable mobility and advanced solutions. In Thailand, Thai Bridgestone Co., Ltd. (TBSC) is a leading manufacturer in the Thai automotive industry, while Bridgestone Sales (Thailand) Co., Ltd. (BSTL) is the exclusive importer & distributor, and supervises the marketing strategy for Bridgestone, Firestone and Dayton branded tires in Thailand. Bridgestone is a brand trusted by its customers, dealers and business partners. It offers an extensive range of quality tires, carefully developed to suit local conditions and to deliver social value and customer value. Bridgestone is dedicated to shaping a sustainable future of mobility and improving the way people move, live, work and play.