Bridgestone Potenza Sport Clinches AUTA's 2022
Ultra-High Performance and Overall Tyre of the Year Award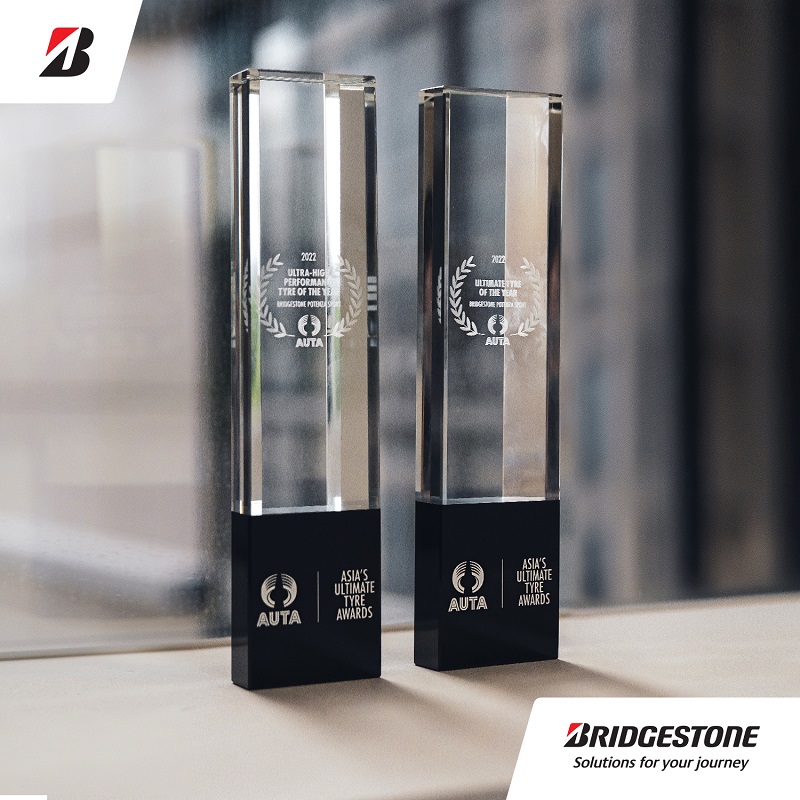 [Bangkok] (July 15, 2022) – Bridgestone is proud to have clinched Asia's Ultimate Tyre Awards' (AUTA)*1 2022 Ultra-High Performance and Overall Tyre of the Year Award at AUTA's recent inaugural tyre test, where it was tested against some of the best known ultra-high performance tyres in the business.


In the Ultra-High-Performance category, Potenza Sport was tested for Dry Handling, Dry Grip, Wet Grip, Dry Braking, Wet Braking, Cabin Noise and Rolling Resistance capabilities, eventually outperforming our competitors in the Dry Braking, Wet Braking and Dry Grip segments.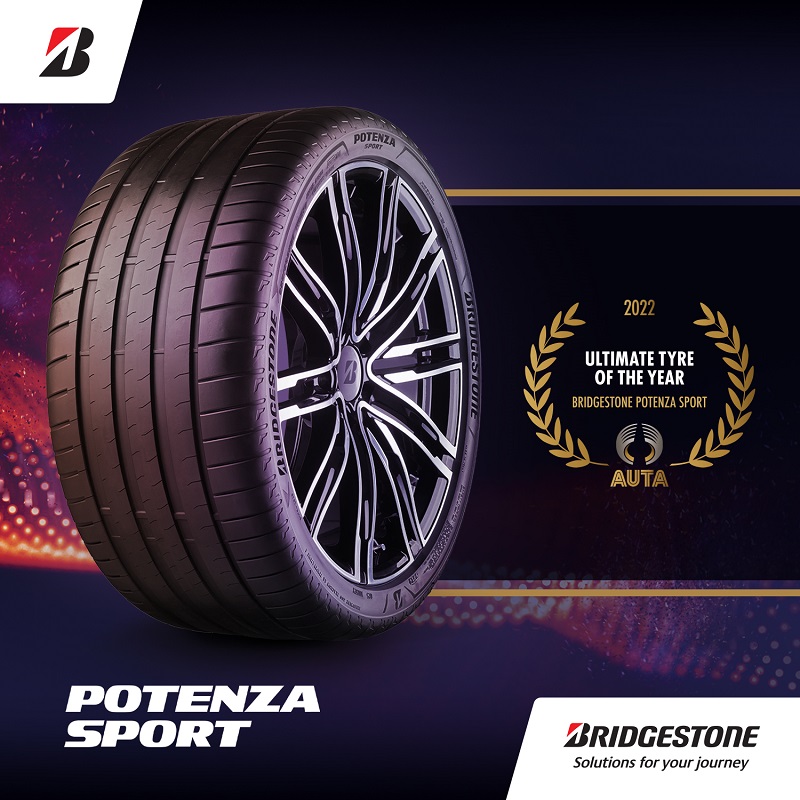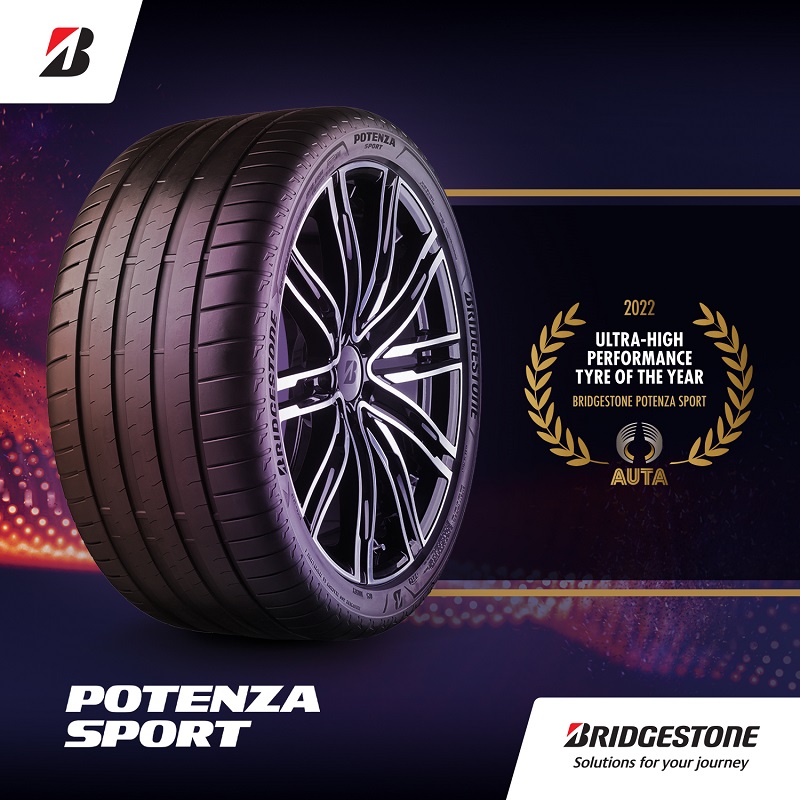 Developed with Bridgestone's innovative Virtual Tyre Development technology, Potenza Sport is engineered to unlock the potential of a driver's vehicle while staying in full control.
This flagship premium ultra-high performance tyre allows drivers to experience the thrill of driving with superior traction and precision control on both wet and dry conditions.

Embodying the 'Better Never Settles' spirit, Potenza Sport represents Bridgestone's relentless attempts to set a new standard in premium, high-end performance tyres.


Mr. Matsukawa Yang, Managing Director of Bridgestone Tyre Sales Singapore and Head of Distributor Markets for Bridgestone Asia Pacific stated, "We are truly honored by this achievement and would like to thank AUTA for taking the time to put this test together.
This flagship Potenza Sports tyre represents the spirit of "Better Never Settles". It meets all driver's needs and expectations. Potenza Sport tyre has raised the bar for premium performance tyres in the industry".
Mr. Lennard Kwek, Head of Marketing & Solutions for Bridgestone China & Asia Pacific said,
"At Bridgestone, we aim to be absolutely ahead as a leading brand and this made us strive to deliver the best in all our products. Bridgestone Potenza Sport utilizes a range of our new and innovative technologies that draw from our global network of research and development capabilities, as well as our long heritage in motorsports racing. This achievement in the Ultimate Tyre of the Year award recognizes a milestone that we have made in delivering another winner in the Ultra-High Performance tyre category. We are very grateful for this recognition. We think Potenza Sport will most definitely be popular in the Asia-pacific region which is why we launched the tyre across most major markets in Asia for example: Australia, Singapore, South Korea, China and Thailand. Looking at the vehicle profiles and customers that we have here in Asia we can see that there is growth in the premium high performance vehicles despite the world going through a pandemic. This growth leads to a strong demand and need for premium performance tyres like Potenza Sport. Our passion is to continuously deliver the best possible customer experience through making better and better products".
Bridgestone's Potenza Sport and its recent achievements align with the "Bridgestone E8 Commitment" *2, "Emotion: Committed to inspiring excitement and spreading joy to the world of mobility".
*1 Asia's Ultimate Tyre Awards (AUTA) started by a team at Ignition Labs to find the best tyres in Singapore. Tyres are one of the most important aspects of car maintenance, since they affect everything about how a car drives – from safety, to performance, to comfort, to efficiency. Although there are plenty of other tyre tests and reviews all over the internet, they're mostly held in other continents and in different climates, so their results contain many variables that aren't completely relevant here in Singapore, or indeed Southeast Asia. AUTA is Singapore's first-ever comprehensive and scientific tyre test, to compare the most popular tyres head-to-head in ways that are most useful to Singaporeans. With over 50 years of combined experience as automotive journalists, the AUTA team knows the importance of clear, unbiased consumer advice, and strive to make AUTA the definitive source of tyre information for all Singaporeans.
*2 "Bridgestone E8 Commitment" realizes its vision: "Toward 2050, Bridgestone continues to provide social value and customer value as a sustainable solutions company." This commitment will serve as the Group's axis to drive management while earning the trust of future generations. The "Bridgestone E8 Commitment" consists of 8 Bridgestone-like values starting with the letter "E" (Energy, Ecology, Efficiency, Extension, Economy, Emotion, Ease, and Empowerment) that the Group will commit to creating together with employees, society, partners, and customers to realize a sustainable society.
About Bridgestone in Thailand
Headquartered in Tokyo, Bridgestone Corporation is a global leader providing sustainable mobility and advanced solutions. In Thailand, Thai Bridgestone Co., Ltd. (TBSC) is a leading manufacturer in the Thai automotive industry, while Bridgestone Sales (Thailand) Co., Ltd. (BSTL) is the exclusive importer & distributor, and supervises the marketing strategy for Bridgestone, Firestone and Dayton branded tires in Thailand. Bridgestone is a brand trusted by its customers, dealers and business partners. It offers an extensive range of quality tires, carefully developed to suit local conditions and to deliver social value and customer value. Bridgestone is dedicated to shaping a sustainable future of mobility and improving the way people move, live, work and play.