"Together We Recycle" activity powered by Bridgestone Thailand and affiliates
join forces to deliver recyclable plastic waste to the "WON" project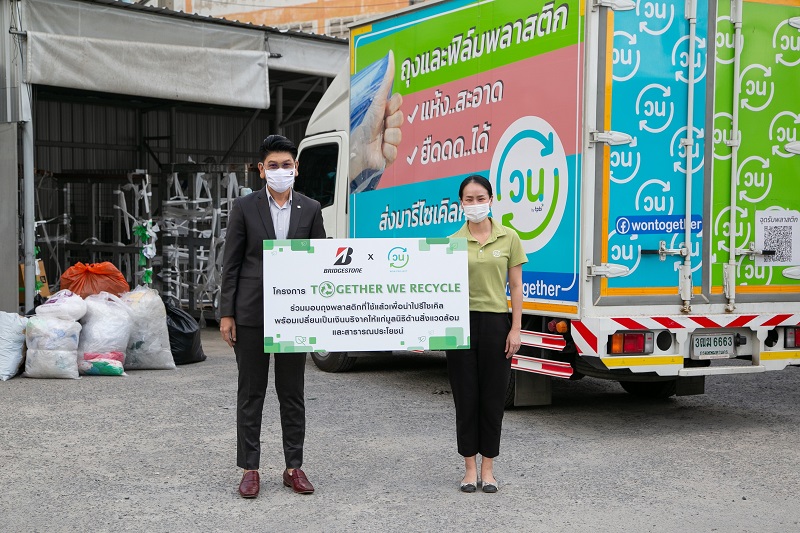 Mr. Thanarak Kanchanakhunthakul, Social Impact Department Manager of Thai Bridgestone Co., Ltd. (Left) and
Ms. Shuleeporn Borrisuttanakul, Director of Won Project by TPBI Public Company Limited (Right)
[Nakhon Pathom] (January 7, 2022) – Bridgestone Thailand Co., Ltd., represented by Mr. Thanarak Kanchanakhunthakul, Social Impact Department Manager of Thai Bridgestone Co., Ltd., hand over single-use plastic waste collected from employees of Bridgestone Thailand and 6 affiliated companies under the World Environment Day activity "Together We Recycle" to Ms. Shuleeporn Borrisuttanakul, Director of Won Project by TPBI Public Company Limited. These single-use plastic waste will become raw materials for recycling in order to recycle those plastic waste as a renewable resource for maximum benefit. The activity is initiated under Bridgestone's corporate social responsibility missions of "Our Way to Serve", where it operates business in tandem with environmental sustainability. The event takes place at TPBI Public Company Limited, Sampran District, Nakhon Pathom Province.
Mr. Thanarak Kanchanakhunthakul, Social Impact Department Manager of Thai Bridgestone Co., Ltd., stated that "The Single-Use Plastic campaign is one of the policies and roadmaps within the organization of Bridgestone Asia Pacific (BSCAP). After we initiated the "Together We Recycle" activity on the World Environment Day, June 5th 2021. Our employees and family members from 6 affiliated companies of Bridgestone Thailand have paid attention and changed their behaviors of recycling waste sorting of "the single-use and disposable plastics" such as plastic bags, wrapping film, shockproof plastic and etc. Since then, they collected and delivered them to the "WON" project to be re-manufactured into bags for garbage and brought back to use in the organization again successfully. This is the most cost-effective utilization of plastic as well as reducing the problem of plastic waste that will directly affect our world."
Bridgestone is an organization that focuses on running business alongside social responsibility, caring for the environment and sustainable natural resources under the concept of "Our Way To Serve". Therefore, every year, environmental activities in the organization are continually organized to spark ideas and bring about change, starting from the staff, extending to family members and the broader society eventually.
About Bridgestone in Thailand
Headquartered in Tokyo, Bridgestone Corporation is a global leader providing sustainable mobility and advanced solutions. In Thailand, Thai Bridgestone Co., Ltd. (TBSC) is a leading manufacturer in the Thai automotive industry, while Bridgestone Sales (Thailand) Co., Ltd. (BSTL) is the exclusive importer & distributor, and supervises the marketing strategy for Bridgestone, Firestone and Dayton branded tires in Thailand. Bridgestone is a brand trusted by its customers, dealers and business partners. It offers an extensive range of quality tires, carefully developed to suit local conditions and to deliver social value and customer value. Guided by its global corporate social responsibility commitment, Our Way to Serve, Bridgestone is dedicated to shaping a sustainable future of mobility and improving the way people move, live, work and play.