CORPORATE COMMUNICATIONS | Bridgestone 92nd anniversary Global CEO Message
1 March 2023
Hello, everyone. I am Shu Ishibashi, Global CEO of Bridgestone Corporation. On March 1, 2023, Bridgestone celebrates its 92nd anniversary. I am glad to celebrate this day with you all.
Since the Group's founding in 1931, guided by our unchanging mission of "Serving Society with Superior Quality," Bridgestone has continued to support the evolution of mobility, and the mobility and lifestyles of individuals with safety and peace of mind from the ground up. I would like to continue moving forward together with you, our Bridgestone teammates, toward the 100th anniversary of our founding while valuing this mission as well as our fundamental principal "Tires carry life." As a roadmap, we announced the "2030 Long Term Strategic Aspiration" last August, stating that we will accelerate transformation to realize our vision of "Toward 2050, Bridgestone continues to provide social value and customer value as a sustainable solutions company," transforming change to opportunity despite this turbulent business environment where "change is becoming commonplace." What is essential to continue advancing along this roadmap is our "Bridgestone DNA" – "Focus on quality," "Respect for being on-site," "Being attentive and supportive of customer problems," and "Challenging spirit." It is Bridgestone's heritage cultivated during our 92- year history, and I believe that it is reflected in the mindset with which every teammate approaches their work, and that it will also continue to drive future growth. As we celebrate our 92nd anniversary, I would like to take this opportunity to further our understanding of the Bridgestone DNA while reflecting back on our company's history.
Bridgestone 1.0: Foundation – business expansion to Asia
The roots of our Bridgestone DNA – "Focus on quality," "Respect for being on-site," "Being attentive and supportive of customer problems," and "Challenging spirit" – was established in Bridgestone 1.0. In the beginning of the 20th century, our founder Shojiro Ishibashi anticipated motorization in Japan and decided to support it by producing tires domestically using Japanese capital and technology. The first "Bridgestone tire" was born in 1930 and "Bridgestone Tire Co., Ltd" was established on March 1, 1931, continuing to this day. Our founder took on the challenge for the first domestic production of tires and expanded business from Kurume, the birthplace of Bridgestone, to all over Japan. In the following year after foundation, he expanded the business from Japan to Asia, and today Asia is our 2nd home market. Respecting being on-site with a focus on quality while being attentive and supportive of customer problems, he supported motorization and mobility with safety and peace of mind in Japan and Asia.

In the 1960s, the group enforced the modernization of management and quality management activities. Corporate structure improvements were made across the entire company under the initiative "Deming Plan," and Bridgestone received the Deming Application Prize, which is awarded to companies demonstrating distinguished quality control, for the first time in the tire industry. The same year, the company code was defined as "Serving society with Superior Quality," which has remained unchanged as our mission to this day. "Focus on quality," which is a big part of our mission, has become a global asset in every business domain and activity and continues to influence each teammate's mindset toward continuous improvement such as in TQM activities. I am very happy to be able to see improvement-Kaizen activities at various genba sites when I visit, such as at plants. Let's keep focusing on the quality of our work in each workplace and on improving it every day.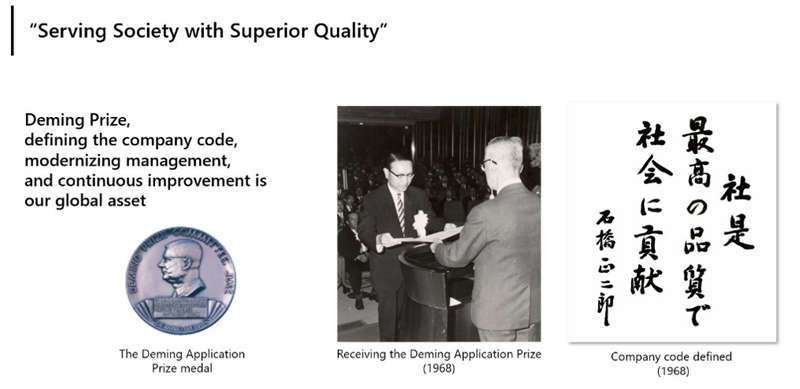 Our founder also believed that "an entrepreneur should not forget to contribute to society," and donated the "Ishibashi Cultural Center," as well as swimming pools in elementary and junior high schools to Kurume city, his hometown. He contributed to the development of local communities through the support and aid to Kurume University including its affiliated junior and senior high schools, and various educational institutions in Tokyo. We, as Bridgestone, can learn much from our founder's belief and need to continue our contribution to society globally.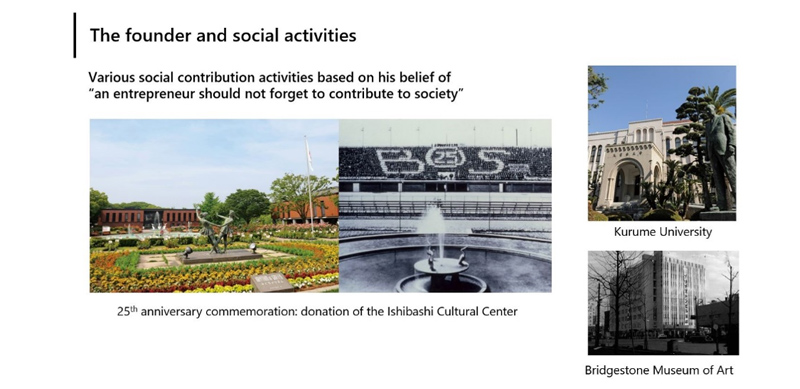 Bridgestone 2.0: Challenge for global Bridgestone and the solutions business
DNA developed during the founding period was refined further throughout Bridgestone's globalization. In 1981, on the occasion of its 50th anniversary, Bridgestone set ambitious goals such as "becoming one of the top 3 tire manufacturers in the world in the 1990s" and took the first step in the "challenge" to become a global Bridgestone. Aiming to make full-scale business establishment in the North American market, in 1988 Bridgestone merged with Firestone, the 2nd largest tire manufacturer in the U.S. at the time. The Group achieved its goal of ranking among the world's top 3 tire manufacturers. This was a large step towards further globalization.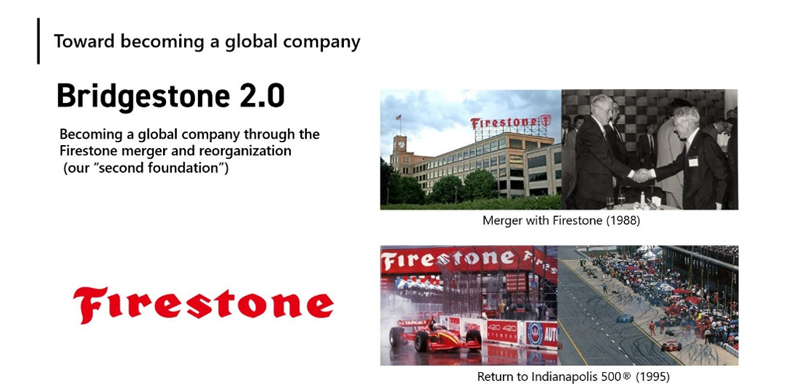 In the 2000s, "being attentive and supportive of customer problems" with "respect for being on-site," Bridgestone expanded its business domain from the "produce and sell" of tires to its "use" phase. It started
the solutions business, which amplifies the value of Dan-Totsu products during the customer's use of tires and solves their problems. The acquisitions of BANDAG, a leading American company in the retread business, and Webfleet Solutions, a mobility solutions company, serve as the base for accelerating our solutions business in Bridgestone 3.0. Let's continue accelerating the growth of the solutions business in a Bridgestone-like way leveraging our Bridgestone DNA especially "being attentive and supportive of customer problems."
(Click for more information about Bridgestone's history)
Challenge for motorsports: "Support the development of motorsports culture from the ground up"
This year is also the year we celebrate the 60th anniversary of our motorsports activities. Bridgestone began participating in motorsports in Japan from the first Japanese Grand Prix in 1963. After that, we have participated in various motorsports activities including INDY500 in 1995 in the U.S. Moreover, we expanded our participation in global motorsports carrying the Bridgestone brand, such as F1 in 1997 and MotoGP in 2002. Bridgestone supported races all over the world from the ground up, and these experiences elevated the Bridgestone brand to a premium brand globally.
The challenge for global motorsports, which travels the world and faces various tire use conditions, requires supporting the safety and peace of mind of drivers and providing driving excitement under extreme conditions and situations. The experience in motorsports have polished up our technology and comprehensive operational capability and gained trust from customers by proving them during races. It has become the driving force in developing our business based on premium tires around the world as a global company. Bridgestone will continue to value motorsports activities in order to inspire excitement and spread joy to the world of mobility, and provide driving excitement
in 10 years, 20 years from now. To do so, we will re-activate global motorsports activities from this 60th anniversary year, evolving the Bridgestone brand into a "sustainable global premium brand" with sustainability at the core. I am very excited myself, and we will proceed planning projects to commemorate the 60th anniversary to inspire this excitement for all of our teammates.
Bridgestone 3.0: As a sustainable solutions company
Toward the future, we established our corporate commitment, the "Bridgestone E8 Commitment" as the guiding vectors and axis to drive management while earning the trust of future generations. The Bridgestone E8 Commitment was defined to embrace our mission, fundamental principal and Bridgestone DNA, and
embody our vision. We defined 8 Bridgestone-like Es and committed to realizing a sustainable society together with employees, society, our partners and customers. I am amazed and grateful that our global teammates have thought through how to realize the Bridgestone E8 Commitment in various activities, proactively making proposals and connecting them to actions over the past year. Let's continue driving our initiatives to realize the 8 Es aligned as a global team with the Bridgestone E8 Commitment as our axis. The Bridgestone E8 Commitment is also the axis to drive the "2030 Long Term Strategic Aspiration." Toward our 100th anniversary in seven years, our aspiration is to "challenge" amplifying trust with society, our partners and customers, while amplifying the value of Dan-Totsu products by deepening coordination between the premium tire business and the solutions business. Let's drive our journey toward this together.
In addition, regarding the diversified products business, we have continued to support the mobility of individuals and objects, various lifestyles and industries with safety and peace of mind, inheriting the "transformation and creativity" spirit. We will continue driving to create new value, while focusing on areas where Bridgestone's core competencies can be leveraged. For example, for seismic isolation rubber and hydraulic hose, we will continue to support people's lives and operations at industrial sites. For cycle and golf, we are inspiring excitement and spread joy in the sports area, while providing the first customer touch point with the Bridgestone brand. Furthermore, in the U.S. we are developing the air spring business for EVs, taking on the "challenge" to support the realization of sustainability and carbon neutrality toward a new era. Regarding the exploratory business, this will definitely be our new "challenge" going forward. We aim to create value to support the sustainable society with the soft-robotics business which supports the lives of all individuals through the power of rubber while establishing as a corporate venture and realizing opportunities for diverse talent to shine, the recycle business which "renews" tires to raw materials and realizes resource circulation, and the guayule business which enhance renewable materials.

To create "New Bridgestone DNA"
The foundation for Bridgestone's transformation for the future is our Bridgestone DNA cultivated throughout our history, as well as new DNA that will be created together with you by placing the Bridgestone E8 Commitment as our axis. I would like you to take this anniversary as an opportunity to reflect once more on our history and DNA. Valuing our history and DNA, let's create our new DNA together toward the 100th anniversary.