Bridgestone Receives Gold Award of ThaiBEV Business Partner Award 2020 for the 2nd Consecutive Year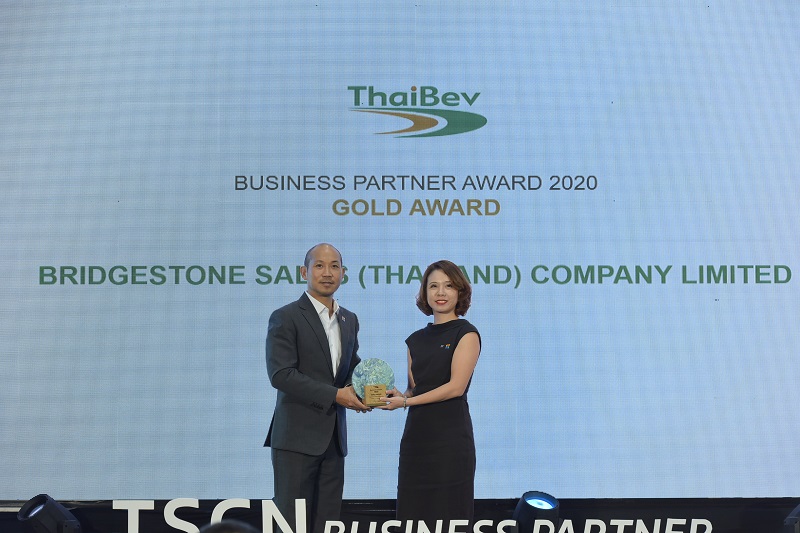 BANGKOK (October 21, 2020) – Bridgestone Sales (Thailand) Co., Ltd., led by Ms. Nisita Siritranont (right), Commercial Product Marketing Department Manager received the gold award of the Business Partner Award 2020 for the second consecutive year at ThaiBev Business Partner Conference 2020, which presented by Mr. Kosit Suksingha (left), Executive Vice President, Chief of Supply Chain Management Group, Thai Beverage Plc. (ThaiBev), at Samyan Mitrtown, Bangkok.
Bridgestone received the award in the Indirect Material category as a partner of ThaiBev with the "Excellent Performance" which recognizes Bridgestone's quality standards of products, services, innovation and sustainability operations, in accordance with the criteria standard set by ThaiBev, and represents its readiness of mobility solutions for sustainable growth for our customers and business partners.
This year, Bridgestone delivered its product - Ecopia R159, developed for better fuel efficiency to maximize cost savings to entrepreneurs as well as deliver environmental friendliness to society. Furthermore, Bridgestone provided trainings for ThaiBev Group's maintenance staffs and offered "B-solution", a full range of commercial vehicle services that create value and ensure the utmost safety to our partners and customers who use Bridgestone tires.
For over 51 years of operations, Bridgestone has been continuously promoting the sustainable mobility to Thai society. We sets forth a forward-looking vision, evolving from a Tire and Rubber Company to be a global leader in Sustainable Mobility and Advanced Solutions with the new tagline "Solutions for your journey". We are excited for the future as Bridgestone advances to offer world-class mobility solutions that deliver increased value for our customer and society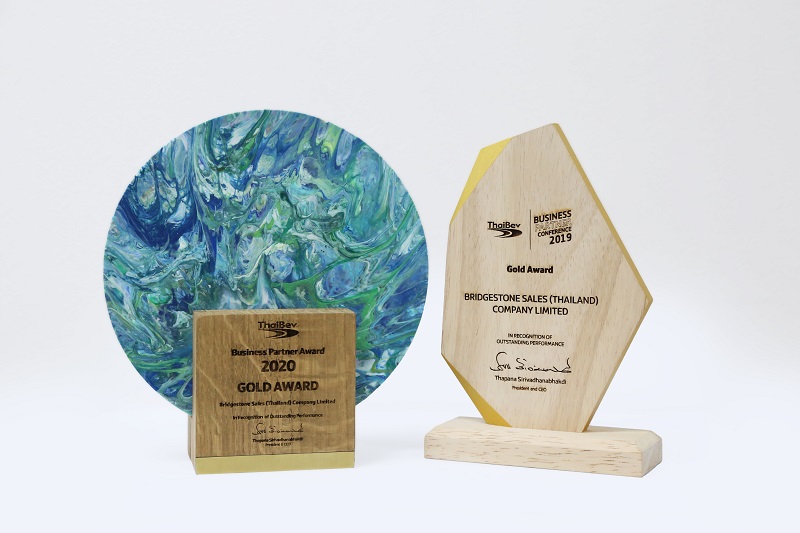 About Bridgestone:
Bridgestone Corporation, headquartered in Tokyo, is the world's largest tire and rubber company. In addition to tires for use in a wide variety of applications, it also manufactures a broad range of diversified products, which include industrial rubber and chemical products and supporting goods. Its products are sold in over 150 nations and territories around the world.
About Thai Bridgestone:

In Thailand, Bridgestone has managed to achieve sustainable growth and success through great confidence from end-users, dealers, and automotive manufacturers since its production 51 years ago. Through our history, the company has shown great determination to research, invent, and create excellent products that are suitable for domestic use. Additionally, together with well selected raw materials, state-of-the-art production facilities and machines, and highest standard of quality control, these enable Bridgestone to journey on the same path with the corporate mission-"Serving Society with Superior Quality".