If you're looking for tires that will help save you money at the pump, give you more mileage per litre and offer a comfortable ride, Bridgestone fuel efficient tires are a great option for you. Bridgestone Ecopia tires are engineered for the eco-conscious and cost-conscious driver, delivering low rolling resistance - meaning the tire minimises wasted energy, reducing fuel consumption and carbon emissions.
Find the perfect Ecopia tire for your vehicle.
Why Are Bridgestone Fuel Efficient Tires Fuel Efficient?
Tire rolling resistance is the measure of the energy lost by the tire as it rotates on your vehicle. Essentially, it's one of the hosts of items that your engine has to overcome to move the car forward.
The technology featured in Bridgestone Ecopia fuel efficient tires helps reduce the loss of energy as the tire rotates. For example, they have a fuel saver sidewall that reduces heat generation and NanoPro-Tech, which optimises performance characteristics by controlling the interaction between polymer, filler materials and other rubber chemicals at the molecular level. They are also made from environmentally conscious materials, such as non-aromatic oil and recycled materials.
Fuel Efficient Tire Recommendations
The latest in fuel efficient technology is the Bridgestone ECOPIA EP300, which is specially engineered to provide long wear and designed to make your car more fuel efficient.* It also provides confident handling and a smooth ride in both dry and wet conditions.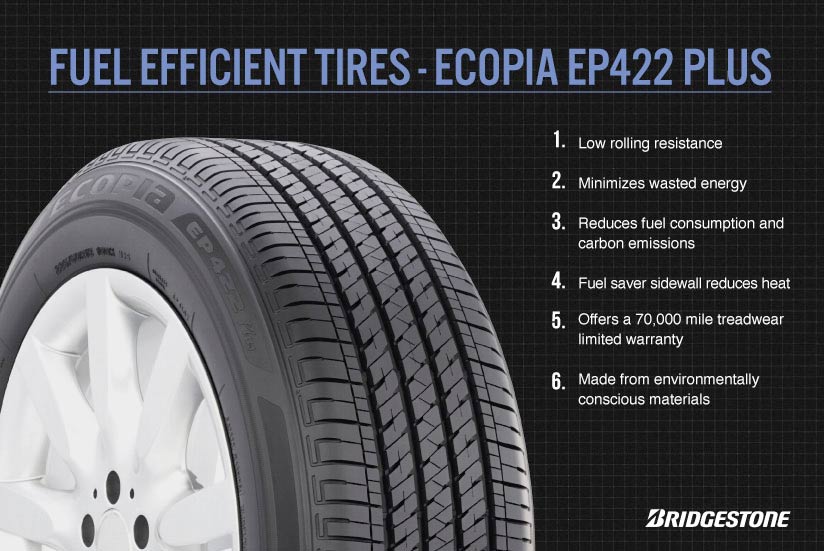 However, if you are looking for tires for your Crossover/SUV, the Bridgestone Ecopia EP850 is an tire that has good wear life, provides a quiet and comfortable ride.
It's because of this fuel efficiency, and the need for car manufacturers to hit mandated standards for fuel efficiency, that new cars tend to come equipped with fuel efficient tires that offer low rolling resistance.
Goals For The Future
Throughout the automotive industry, manufacturers are striving to make every aspect of an automobile more efficient. Our goal at Bridgestone is to have a waste-free future for our industry and the communities we operate in. No more tyres to landfills, every spent tire turned into a valuable resource and a healthy environment for current and future generations.
* Ecopia EP300 can travel up to 11km more with every full petrol tank (70L).
Test Condition:
TUV Rheinland Chassis Dynamometer test according to UNECE-R83 and UNECE-R101
Vehicle: Toyota Camry 2.0G
Tire Size: 215/60R16
Inflation pressure: 230kpa
Fuel consumption during urban cycle (city)
Actual results may vary based on proper tire maintenance, vehicle, driving style and road conditions. Limitations apply.